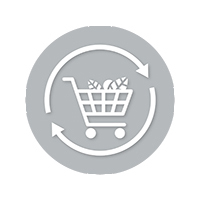 The agriculture and food industry is a major employer and an important part of the German economy. Yet they still have much more potential to offer. Innovative solutions could unlock numerous opportunities for the food industry to develop and grow, offering businesses the chance to optimize their products, increase quality and remain internationally competitive all at the same time.
A sustainability transition is underway in Germany's food and agriculture sector, illustrated by the growing popularity of eco-farming and "buying local". Yet despite a steady stream of positive developments, many challenges remain on the path to achieving a sustainable food system. These must be addressed if we are to realize this sector's untapped potential and increase the quality of the products it provides to consumers.
One challenge is the increasing vulnerability of the globalized food system due to climate change. Others include resource scarcity caused by fragile supply chains and rising food prices and food speculation as well as the scarcity and degradation of freshwater resources. A sustainable food supply relies on us tackling these and many other issues.
Researchers from numerous Fraunhofer Institutes are working closely with the food and agriculture sector, engaging with their partners to develop innovative solutions along the entire value chain of the food and agriculture economy.
For further information on the lead market for agriculture and food industry, see the website of the Fraunhofer Agriculture and Food Industry Alliance.