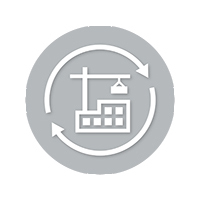 The construction industry is facing major challenges and necessary transformations, from digitalization and climate target achievement to a circular economy. The Fraunhofer Building Innovation Alliance addresses this important lead market with a central point of contact for all questions and needs of the industry and coordinates interdisciplinary teams to solve inquiries quickly.
Due to important social and economic policy objectives, such as climate neutrality, the response to climate change and the need to conserve resources, many established construction products and processes are being challenged to adapt in new and sustainable ways.
We want to meet this acute need for development with targeted and practical solutions. To this end, we not only link up the specifications of classic construction research but also other important research fields such as digitalization, mobility, energy, mechanical engineering and health. As a solution incubator, the Building Innovation Alliance wants to be your "one-stop shop" for all questions relating to the "new normal" of the construction industry.
For further information on the lead market for the construction industry, see the website of the Fraunhofer Fraunhofer Building Innovation Alliance.