Robotics – Changing the Future of Healthcare
Brussels / April 03, 2019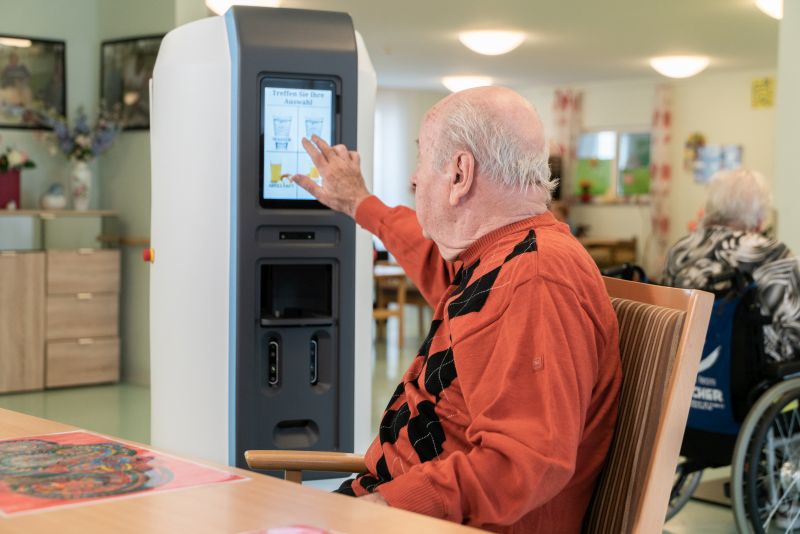 Not enough nurses for too many patients or residents: this is a well-known and often discussed problem in the nursing sector. To reduce the workload of the staff and add to the attraction of the nursing profession, service robots can be of benefit. At the same time, they can actively support those in need of care and increase their independence at home or in everyday environments. Since politicians have recognized the problems arising from the demographic change, research funding in this field has been given a great boost. However, only a few products exist, such as robotic vacuum cleaners or lawn mowers for the home, electric rollators or specific manipulation aids for handicapped persons. In residential care facilities or hospitals, transport robots are used to carry containers to the individual wards, but they are not directly supporting the increasingly low number of care staff.

Fraunhofer Institute for Manufacturing Engineering and Automation IPA has been an important player in this field of research for more than 20 years. For example, the researchers have developed the vision of the "Care-O-bot®" robotic home assistant – now already in its fourth generation. Additional low-cost solutions such as the "mobile communication assistant" MobiKa support the quick transfer of research results into new products. Other recent developments aim at supporting health care staff in nursing homes and hospitals. The "intelligent care cart" autonomously drives to the patient's or resident's room where it is needed and documents the consumption of medical supplies. The "robotic service assistant" is capable of serving snacks and drinks in the common rooms of nursing homes autonomously.
The current edition of the Fraunhofer Technology Experience will give insights how Fraunhofer IPA puts its comprehensive health care robotics know-how into practice. Together with our industrial partners, we create highly functional, market-ready robotic solutions for the healthcare sector, which we invite you to discover yourself.
With nearly 1000 employees, Fraunhofer Institute for Manufacturing Engineering and Automation IPA is one of the largest institutes in the Fraunhofer-Gesellschaft. Its 15 departments are supplemented by six business units: Automotive, Machinery and Equipment Industry, Electronics and Microsystems, Energy, Medical Engineering and Biotechnology and Process Industry.

Agenda 12:30 - 15:00
12:30 Registration and networking lunch

13:00 Welcome
Mathias Rauch, Director Fraunhofer EU Office

13:05 Keynote
Olivier Da Costa, Program Officer, Robotics & Artificial Intelligence, Directorate-General for Communications Networks, Content and Technology, European Commission

13:20 Presentation and Technology Experience
Dr. Birgit Graf, Household and assistive robots, Fraunhofer Institute for Manufacturing Engineering and Automation IPA

13:50 Dessert and Demonstration
Fraunhofer is Europe's largest application-oriented research organization. Our research efforts are geared entirely to people's needs: health, security, communication, energy and the environment.
About Fraunhofer Technology Experience Series
This series of lunch events not only showcases cutting-edge technology for the benefit of European citizens but also gives you the opportunity to test it yourself!
Location
Brussels
Fraunhofer EU Office Brussels
94, Rue Royale
+32 2 506 4240
brussels@zv.fraunhofer.de